EPTA AMONG THE PROTAGONISTS OF THAIFEX 2023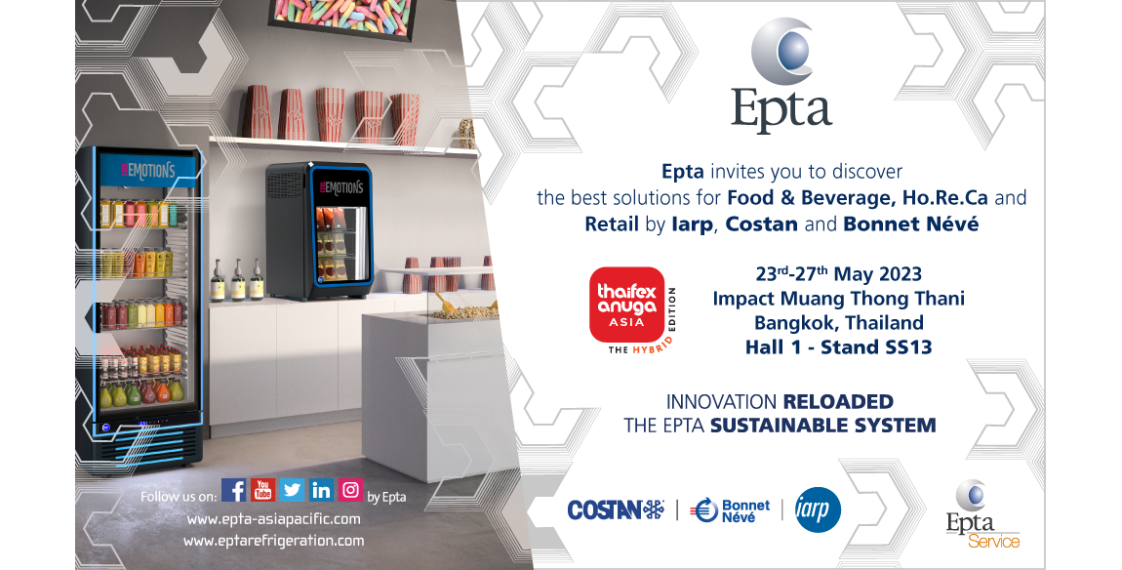 Epta returns among the protagonists of THAIFEX – Anuga Asia, the largest trade exhibition in the Orient dedicated to food, from 23 to 27 May in Bangkok, Thailand. Innovation Reloaded. The Epta Sustainable System will go on stage at stand SS13, Pav. 1: the Costan, Bonnet Névé and Iarp-branded solutions, combined with the know-how of EptaService, fully satisfy the Food&Bev, Ho.Re.Ca world, up to Retail.
An event with large numbers 
Again, this year, THAIFEX promises to be an event with large numbers, with more than 60,000 visitors expected and more than 2700 exhibitors from all over the world, ready to introduce their innovations, designed to rethink a sector which is rapidly evolving. An important networking opportunity, during which the participants can see international shows and discover the latest trends of the APAC market.
Epta anticipates the future of Food & Bev 
Epta anticipates the future of Food & Bev with the Iarp-branded refrigerated cabinets. In the spotlight: 
-    Delight 18, to display whipped ice cream. The 18 tubs are easy to access, facilitating the operator in his daily activities.
-    Super Excite, the cabinet for packaged ice cream, designed to boost impulse buying. 
-    Magenta 408 and Scarlet 2982T, with LineON connection. The vertical cabinet dedicated to wine lovers, can store different types of wine thanks to different temperature ranges.
Retail according to Epta 
At the 19th edition of THAIFEX, Retail takes shape according to Epta at stand SS13. The display area features cabinets branded Costan and Bonnet Névé, which feature: 
-    Bora/Melo, a cabinet with maximum flexibility, available in the self-service and serve-over version, ideal for the presentation of fresh and extremely fresh products.
-    Opera Hot/Offlip Hot and Opera SV Hot/Curl Hot, plug-infurnishings designed to ensure optimal visibility of ready-made dishes to eat hot and with the same family feeling with the cold version of the cabinet. 
-    Breeze 2D, also equipped with LineON. The innovative plug-in by Bonnet Névé allows to work with two temperatures, to store both fresh and below-zero products.
 
That is not all. @THAIFEX, the Group also presents the technologies and services of EptaService, such as LineON, the digital platform which allows 24/7 remote monitoring of the performance of Epta-branded plug-ins, in terms of energy and sale.